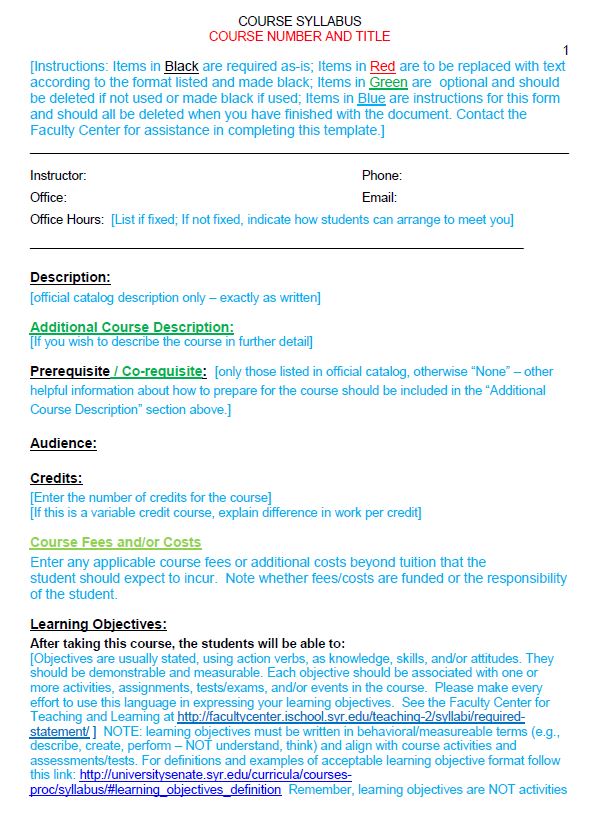 Updated August 2018
A syllabus is required for all iSchool class sections, and it is required to be in the approved general format with the appropriate required policy statements. Federal law assures students that institutions that receive Federal support will disclose important information about the course and the requirements associated with it, including textbooks. Posting your syllabus document  on our MyiSchool portal fulfills this disclosure requirement.
The Faculty Center for Teaching and Learning staff will assist you with the adaptation of the syllabus template for your class.  Please contact Peggy Takach at pmtakach@syr.edu for more information.
A draft version, or final version, of your syllabus must be posted on the iSchool website class schedule by the time students are able to enroll in the course.  A complete and final syllabus must be posted there no later than before the start of the first class session.  Please see the "Upload Course Syllabus" tab for more information and instructions for posting your syllabus.  These instructions will allow you to make your syllabus viewable by either the general public, or restricted by login to viewing by valid SU students, faculty and staff.
A pre-constructed document in the standard University syllabus format has been customized for the specific requirements of the iSchool. Please use this template: Senate-Course-Syllabus-Template-iSchool-Customized 20180822 as a reference tool to help you construct your own class syllabus, or you can simply follow the instructions contained in it to use the document directly.  The syllabus template that is provided generally to the university on the Senate website does not contain all of these sections, so please use our attached template as your guide instead for iSchool courses.
Please note that for iSchool approval of new courses or significantly changed courses, you must use the exact format of the provided template.  More information about University policies regarding syllabi and curricula can be found at http://universitysenate.syr.edu/committees/curricula/.